How Toy Soldiers Are Created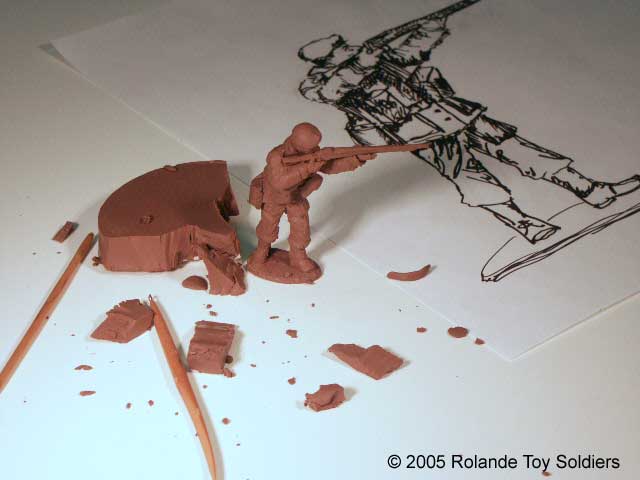 International Toy Soldier Gallery specializes in King and Country!
order online!
---
How Toy soldiers are created

Above is an artist sketch and the clay sculpture. Image from King & Country Collector Issue #3.
Toys soldiers are available in a large variety of subjects and materials of composition such as metal, resin and plastic. To start a toy soldier sculpture most artist start with a concept. This may be in the form of a pencil or ink sketch. The most important part of creating a toy soldier is knowledge of the subject. This information may be gathered from museums, books, private collections and if possible veterans themselves. Detailed studies are made of the period uniforms, weapons, insignias, and any related items to the subject matter depicted.

Above is an artist sketch of a toy soldier before it is sculpted. Provided by Rolande Toy Soldiers.
To create a toy soldier a skilled artist must create the initial carvings or sculptures also called the masters. Masters can be created in wax, epoxy, clay, resin or wood depending on the artists choice. Very small sculpting tools are often used to create the tiny details. These tools may often be the same tools used by dentists! The toy soldier is first roughed out with attention to proportions. Details are then added.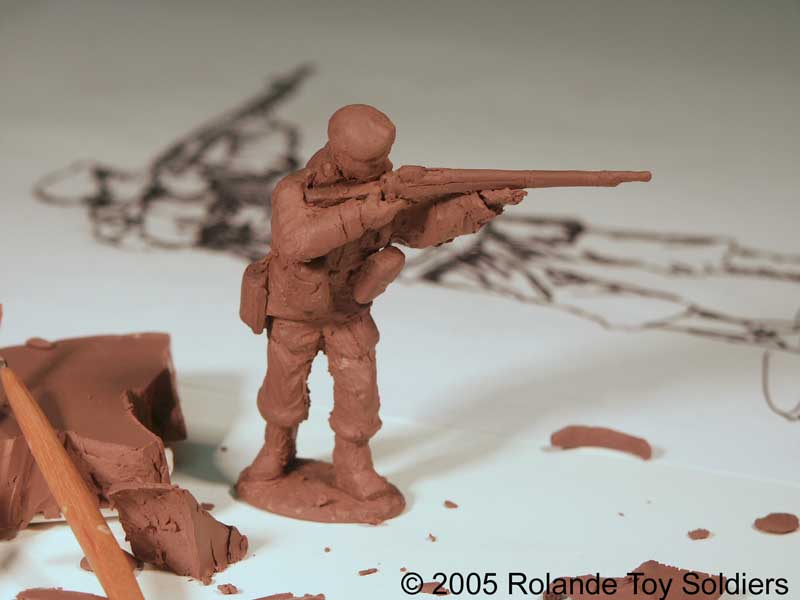 Above is a toy soldier roughed out in clay. The next step will be for the artist to start refining details. Provided by Rolande Toy Soldiers.
Once the sculpting of the master is completed a mold is made. These molds are used to cast the finished toy soldiers in metal. Metals most commonly used may be lead, pewter, tin, and bronze. Once toy soldiers are cast in metal they are hand painted by skilled artisans using acrylics or enamel paints.

Above is a collection of toy soldiers cast in metal and unpainted. Provided by King and Country Toy Soldiers.